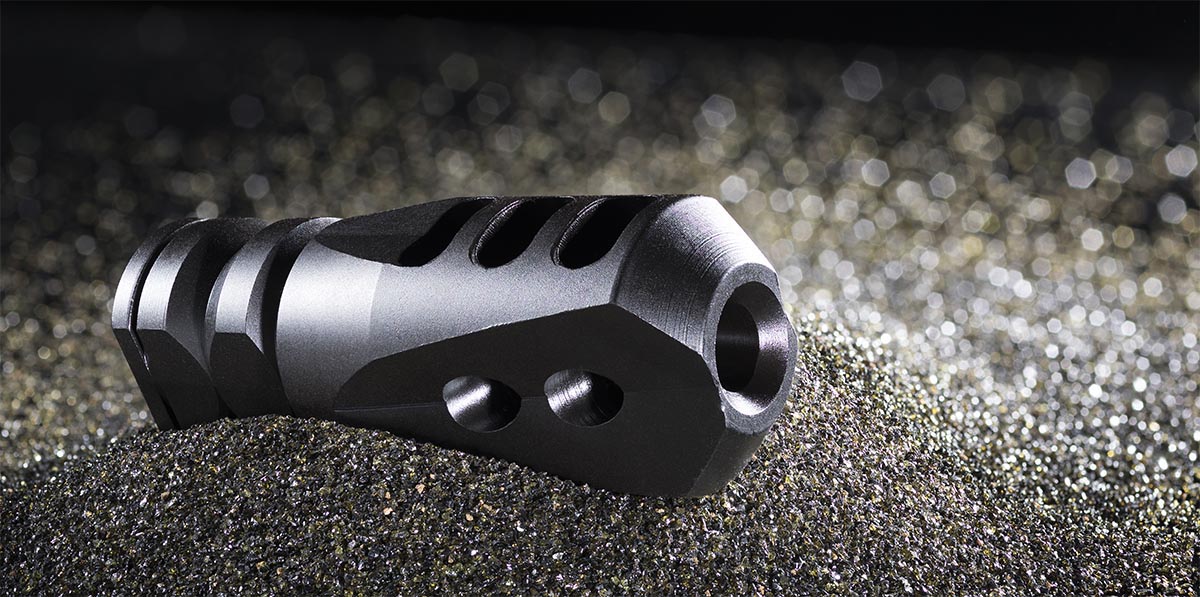 Mission First Tactical has rolled out its first line of muzzle devices. There's five in all, and I'm in the process of getting good pictures to accompany my reviews. The one you see here is the Mission First Tactical E2ARMD4 Compensator.
I'm OK with the rim lit, on black version I took of the company's new E2ARMD1. It provides a ton of detail at a glance, but editors and readers like different looks and feels. Add the fact that there's little/no room for text and it's not a lead photo candidate.
Finding appropriate elements to include and create a different look, especially for small item is often a challenge, though. In this case I had something different I thought I'd try.
Sandlblasting Media
My driveway here in Raeford, NC, is terrible. Pine trees neglected years before I moved in have turned it into a crumbling roller coaster ride. The differences in elevation show on topo maps.
Water and dirt form in chronic swamps and I cannot afford to have it redone.
Added to the malady is the fact that UPS, USPS and FedEx arrive nearly every day with new gear I need to test for magazines. That's a good thing in regard to work, but it's rough on ailing asphalt.
Every spare moment I can muster is spent on my hands and knees trying to patch and level. Yes, I know it's a short-term solution, but the cosmetic improvement is temporarily therapeutic.
I read somewhere that one contractor always adds fine silica sand in a ratio of one to three pounds per gallon of asphalt sealer for commercial locations. Traction is improved and allegedly longevity increased.
The jury's still out on the spots where I've applied the mixture, but it is shiny. Sparkly when the sun hits it just right, in the spring, once the flowers are in bloom and my knees no longer ache—or so I'm telling myself. Delivery people now know me as the twinkly driveway guy. When an item's arrival is running late, simply apply asphalt sealer and like magic before it's dry a truck shows up with the package and I'm asked, "Is that still wet?"
I had some 40-80 grit, black silica sandblasting media around the house and thought I'd give it a try. Let me know if you think it works. It's dry, by the way and somewhat appropriate considering the precision in modern machining and polishing.
Focus Stacking
This single image is actually more than a dozen combined, using focus stacking. A small item like the Mission First Tactical E2ARMD4 Compensator with my 100 mm Canon Macro lens would be largely out of focus without the technique. Even stopping down the lens won't pull it all in at an oblique angle.
You'll notice the bokeh in back, though. While taking the images I didn't focus all the way to the background to preserve that effect. Doing so is a balancing act, so if you give it a try, be patient.
Mission First Tactical E2ARMD4 Compensator
I haven't mounted and tested any of the three versions I was shipped to test yet. Photos come first to avoid having to clean things up later for the camera. It's a timesaving thing, and there's this insane driveway project I'm in the middle of.
I can say, however, if the Mission First Tactical E2ARMD4 Compensator performs half as good as the great of the company's gear, it will be awesome. I cannot recommend the company's products enough.