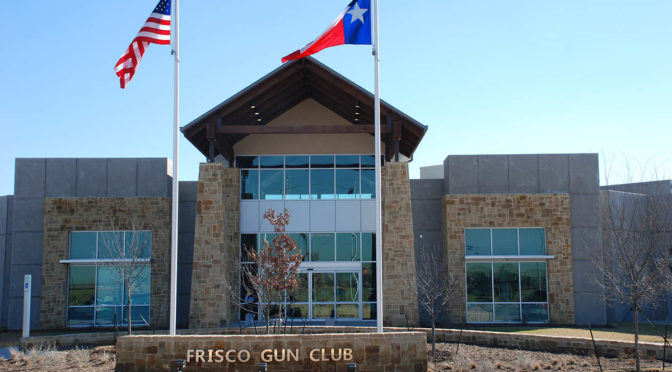 Photo courtesy of Frisco Gun Range
Not long ago shooters braved the elements and made long drives to wring out a new gun or practice, but an epoch change is underway. Even the mid-town, the eight-lane indoor range that seemed so evolutionary a decade ago feels like a dinosaur when compared to a new breed of shooting range.
They may share the same DNA, but Nexus Shooting in Davie, FL, is a prime example of the new species. It officially opened on May 13, 2013, and in that short period its atmosphere and technology has already attracted national media attention.
Its website claims it is, "…the most technologically advanced indoor shooting facility in the world." Zach Snow, manager of Shooting Promotions for the National Shooting Sports Foundation described the facility to Range Report magazine recently as, "…beyond state of the art."
The indoor range has a total of 40 lanes. Eighteen of them are fully automated paper or reactive steel, but it's the 22 Nexus lanes that are unique. There, a video screen serves as the target, and shooters use real guns and ammunition. A computer analyzes shot placement, automatically generates scores, calculates group-size averages and relays the information. A digital account creates a record of all your sessions for long-term monitoring of your improvement—or those areas that need work.
A keypad at each lane also allows shooters to change instantly from targets presented, and options include paper, steel, shooting gallery or even defense of the Earth from an asteroid shower. Regardless of preference, a shot-by-shot record of your range time can also arrive by e-mail.
There's also a state-of-the-art showroom with seventy two 60-inch LCD video displays, more than 400 popular firearms for sale, rentals—just in case you want to take one for a test ride—a VIP lounge with private lanes and classes that range from basic pistol, carbine, carry and even a free youth-firearms program.
A trio of gun enthusiasts own the $15 million range, including Dr. Bernard Hsiao, a physician who started shooting in 2008. He grew concerned about health issues in the indoor range he frequented, and as a result, insisted Nexus Shooting addressed those concerns. Oversized ventilation systems (with a price tag of more than $1 million) that exceed OSHA and EPA standards, generous lighting, an unusual floor design that collects brass and even hospital-grade soap to scrub lead particulates make the entire experience a modern one.
There are several other modern choices in Florida, including 62,000-square-foot Shooters World in Tampa. It has 34 indoor shooting lanes, with seven of them able to stretch rifle distances to 100 yards (and a video monitor at the target provides instant feedback at the bench). Over at Lake Mary, Gander Mountain Academy also has firearms and accessories for sale, as well as live and virtual ranges, and a video simulator puts self-defense enthusiasts to the test.
The trend is spilling out of the Sunshine State, though. Elite Shooting Sports opened in Virginia's Prince William County in 2014 and the company's ambitious long-term plans include an expansion to 65,000 square feet. Four separate ranges with 42 lanes are available, including 50- and 100-yard offerings.
A pair of customer lounges, gunsmith, dojo, lockers, gun rental, four classrooms and a café are part of the amenities. However, it's the simulator and 1,600-square foot, two-level shoot house that attract most of the attention. Elite Shooting Sport's retail area, which covers 5,600 square feet, offers virtually everything you need, and classes are available for pistol, carry, carbine, rifle and more.
Near Charlotte, NC, Blackstone Shooting Sports opened its 6,000-square-foot retail shop and 27 lanes (up to .50 BMG is allowed) in late 2014. Members of the law enforcement community, first responders and military qualify for special discounts, and the company will offer regular training sessions. It has a member's lounge, a pair of classrooms and covers 28,000 square feet.
In 2013, Frisco Gun Club in Texas opened with a slightly different business plan. The exterior's grounds are manicured better than most PGA courses, but inside the 45,000-square-foot building, there's a gun shop, gunsmith, café (with a special VIP lounge and a real chef) and 40 shooting lanes—including four 100-yard rifle bays. "We designed our club to be different from your typical gun range, more like a high-end department store and country club in look and feel," said Brandon Johnson vice president of the club's marketing. "As a result, we have many more female shooters coming in along with entire families spending time together learning safety and proper techniques."
And if you're looking for a machine gun experience, here's another strategically located near Orlando, FL.
And there's a whole new generation of specialty destinations. If you're looking for something to add to your bucket list, here's a few places to consider. The trend doesn't show any sign of slowing, either, putting traditional ranges on notice—if new shooters keep finding this kind of selection natural, it may be time to evolve.