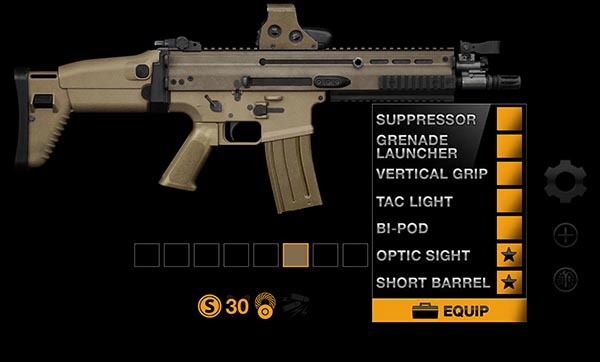 Once upon a time, cell phones only made calls, when you were in a city, and had a signal. The smart phone has changed all that, providing fingertip access to microprocessors, sensors and now, more than ever, firearm enthusiasts in multiple disciplines are discovering there are gun apps for that.
Here are a few I've uncovered.
Still have a headache from that prolonged cartridge shortage? There are gun apps for that, sort of. AmmoSeek is a search engine that helps find ammunition, magazines, guns and reloading supplies at the best prices online. You can even filter by caliber, grains, type, brands and save searches to make things faster the next time someone snatches the last box of 5.56 NATO from your fingertips. It'll remedy the cranial cramp's cause, but for if another shortage sets in a visit your nearest drug store may be in order.
If you believe practice makes perfect, here's your gun app for that. Brush up on your stoppage-clearing skills and handgun presentation speed while being timed. Hit the drill button, wait a few seconds for the audible "ready" warning and begin when you hear the start tone. A bell signals when the drill is complete and a "repeat" function allows you to loop over the same drill and improve your time.
Need NRA News on your portable device, including archives from the past five days? There are gun apps for that, but this one is the official version and includes ILA alerts and the NRA Blog. It also includes an NRA Near Me function that plots events, clubs, classes and tournaments close to you. It even allows you to quickly access each division's Facebook page—I suggest you lurk on the publications page, Shooting Illustrated specifically, to keep up with my latest work, hint, hint.
If clay's your game, there are gun apps for that. This one's a digital scorecard for your addiction, and you can compare past rounds to determine which firearm/ammo combo is working best. Scorecards included are five-stand, trap and skeet.
This ballistic calculator has been around since 2001 and it is one of the most popular for devices today. Nearly every variable can be entered, and a number of reticles are available including Nightforce, Leupold, Burris, Nikon and many more. It's like having a spotter in your phone, only he won't stiff you on the bar tab.
This app's perfect when your wait is unduly long in the doctor's office or it's time to annoy a coworker. It allows you to put an arsenal on your phone and comes in several different flavors, including guns of World War II. Work the action, shoot your shotguns, semi-automatic rifles, pistols and sub-machine guns to your heart's content, without worry about policing up all the brass once the proctologist is ready to see you.
Looking for a range? The National Shooting Sports Foundation's app will search its comprehensive directory of shooting ranges in Canada and the United States, and instantly provide the locations of those nearby. If you want a look at a few of the "new breed" of ranges, you might take a look here, too.
RIP, GunBroker App
Once upon a time, if you were in the market for a new gun, or needed to sell, GunBroker had a gun app for that. It offered access the world's largest online auction of firearms and accessories using a free app optimized for your phone or tablet. You could search for items, place them on your watch list, bid, buy, and even find an FFL for lawful transfer. Sellers could even set up custom alerts and find out when an item sold. Well, it's no longer available. We'll let this page from GunBroker explain.