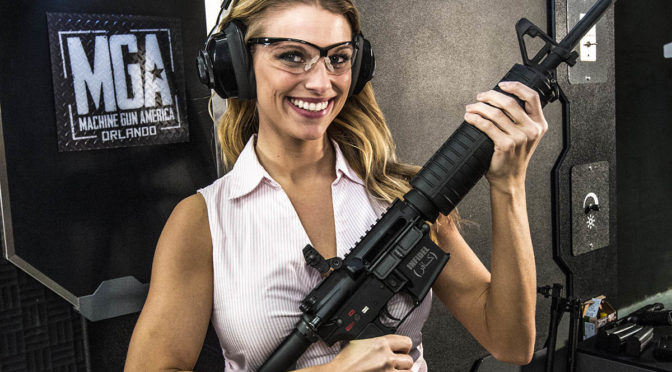 Photo courtesy of Machine Gun America
Machine Gun America, a Florida gun destination located strategically close to magical Orlando, FL, might just make all the other range experiences feel—well—a little goofy. Instead of issuing a blanket statement that it's a destination unto itself, we'll let you decide.
The company bills itself as "Orlando's first and only Automatic Adrenaline Attraction." Be forewarned, though, you cannot bring your own firearms. Machine Gun America's approach makes it primarily a tourist attraction, one already being visited by hundreds of aspiring shooters. In a section of the facility, live fire isn't even part of the equation.
"Machine Gun America offers a unique experience, far from just standing on the range and shooting a firearm," said Wes Doss, the facility's safety and training director. "There are three climate-controlled rooms that house Ti law enforcement-grade simulators where customers can participate in old west-style shooting events, target practice or even fight the zombie apocalypse, without ever firing a live round. The simulators are the exact units used by state, local and federal law enforcement across the country." There are more than 20 different scenarios are available.
In addition, at the Florida gun destination there are 10 live-fire ranges that offer patrons a chance for different experiences with guns to match. They include Special Ops, with an M4, Glock G17 and Heckler & Koch MP5 available as your firepower. "Get up and close with military-style firearms and get excitement in your sights," the website explains. Gangster Land gives you the Smith & Wesson .38 Spl., coach-style shotgun and an AK-74 for firearms. Other experiences available include The Walking Dread, OO7, Western Shootout, Automatic Divas and Big Screen Legends.
Pro staffing
Doss' resume addresses any concerns about novice shooters and safety. He holds instructor certifications from the U.S. Army, the U.S. Marine Corps, NRA LEAD, FEMA, the State Department and worked with the Smith & Wesson Academy and Sigarms Academy. "Machine Guns America is unique in that the facility has taken tremendous measures to train and certify range staff and implement safety measures that ensure customer safety while maximizing their experience," he said. "Every range safety officer must have and maintain NRA Range Safety Officer certification, further, as director of safety and training, I make sure that all staff receives quarterly professional development training." In addition, all of the safety officers have a military or law enforcement background, no alcohol is served or allowed and patrons must be 13 years of age or older.
For those of us whose safes are full, Machine Gun America also provides a chance to get behind the trigger of fully automatic Heckler & Koch MP5s, M4s, FN USA SCARs or a belt-fed RPD. If you're considering a suppressor, you might as well take an ear-friendly H&K MP23 for a spin while you're there.
Cost is more reasonable than you might expect. Experiences begin at $99, and simulators $30. "Machine Guns America offers the unique capability of being able to host special events—bachelor, bachelorette or other like events are what MGA is built for," Doss explained.
Fast start at Florida gun destination
What's the reception been so far? "MGA saw its hard launch on Dec. 20, 2014, and since has had a steady flow of traffic through its door, sometimes taking the facility to max capacity," Doss said. "Our strongest customer base has been single females between 25 and 35. They alone make up roughly 40 percent of our walk-in and reservation traffic."
In addition, the facility is following the firearm-industry tradition of giving back. "MGA is also working cooperatively with law enforcement in the southeast," Doss explained, "to provide high-level training to members of this community that otherwise would be difficult to obtain."
It may have a theme-park feel, but safely allowing hundreds of people to experience firearm operation—providing them a more informed decision if they consider ownership down the line—is anything but mickey mouse. For more information visit MachineGunAmericaOrlando.com.
And if you're looking for the kind of destination worth adding to your bucket list, here are a few suggestions.