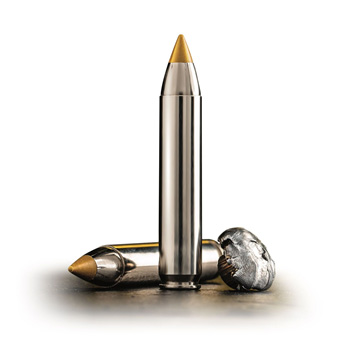 The cartridge was rolled out only last year and now there are new .350 Legend loads from Browning Ammunition. The .350 Legend offers many features and benefits to the millions of hunters and recreational sport shooters. It is compliant in states that only allow straight-walled centerfire cartridges for hunting, and it is also uniquely suited for use across multiple firearm platforms from traditional bolt-action rifles to modern sporting rifles to even single-shot pistols and revolvers.
In 2020, Browning Ammunition is introducing two new .350 Legend rounds. The first, a full metal jacket (FMJ), 124-grain round with muzzle velocity of 2,500 feet per second (fps), which can be coined the fastest straight-walled cartridge in the world (when fired from a 20-inch barrel).
Special Notice: This load is one of the most popular items to appear at this year's SHOT Show, but there's reason to believe the event won't take place in 2021. Here are full details.
The second, a newly developed .350 Legend Browning BXR Deer bullet, is a 155-grain rapid expansion design that maximizes energy transfer on impact for quick and effective terminal performance. The proprietary Matrix Tip (copper/polymer) initiates rapid expansion.
And if the new .350 Legend loads from Browning Ammunition aren't "fresh" enough for you taste, the .27 Nosler is fresh off the presses this year.
Here are the answers to some .350 Legend questions I've been asked recently, and here's a link to more technical specs of the cartridge. There you'll also find a direct link to its SAAMI approved cartridge and chambering technical drawings.
Finding the right cartridge for long distance can be a challenge, but the experts I interviewed provided some sound advice.
Thank you for visiting my modest blog. Leave a comment if you have time and I hope you have a glorious day.
Editor's Note: Federal introduced a new .350 Legend load in its Fusion line in June 2020. Here are more details.
And don't forget to stay up to date on the latest about the .350 Legend by following this Instagram page dedicated to the cartridge!