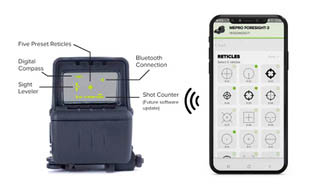 From Meprolight
The digitally advanced MEPRO Foresight provides features and benefits to shooters who want the latest advances in red dot optics and to the traditional shooters who prefer a single red dot. Shooters across a wide range of disciplines and expertise—Self Defense, Competitive, Law Enforcement, Hunters and New Shooters—now have the opportunity to upgrade their capabilities. It is the first digitally enhanced red dot sight, providing critical real-time data to the user's FOV. The reticle and data are projected onto the Foresight's glass much like the heads up display a fighter pilot sees when he zeroes in on a target. The shooter who prefers a single red-dot reticle can select that option or the shooter who wants as much real-time information can load the data they prefer to the optic window.
The state-of-the-art Foresight includes the Meprolight App which is unique in that its web-based-smart-phone Bluetooth connectivity allows the shooter to select and store five reticles from a large database of reticles. Scroll through menu and select the reticle that fits your need. Reticle options include 1 MOA dot and 1 MOA dot with circle. In addition to five reticles you can store the data from 10 different weapons—rifles or shotguns. The built-in Picatinny rail attachment allows you to simply move the optic from one gun to another More importantly, it gives you confidence knowing you have already zeroed that weapon and stored the ballistic data which is vital when changing between calibers or if you use supersonic and subsonic ammo in the same caliber. The integrated light sensor automatically determines reticle brightness. The Meprolight App features include internal compass, level/cant indicator, battery strength monitor and shot counter.
The Foresight, first of its kind, provides greater technical advantages by allowing the user to utilize the Meprolight App that is included as well as free access to download the Double Shot—Automatic Digital Zeroing—App allowing the shooter to zero the weapon without touching the optic solving the concern of new shooters uncertain of zeroing their gun. The user starts by shooting a multi-shot group and uploading a photo of the grouping to the app. The system analyzes your mean point of impact and zeroes the weapon automatically.
Real time projected data—providing the shooter with critical ballistic data — all displayed to a wide, image-sharp, viewing window, the Foresight increases you shooting capabilities depending on your need. Like your smart phone, it is powered by a rechargeable USB-C battery.
And the company also recently released backup iron sights that feature tritium inserts. They are definitely worth a look here.