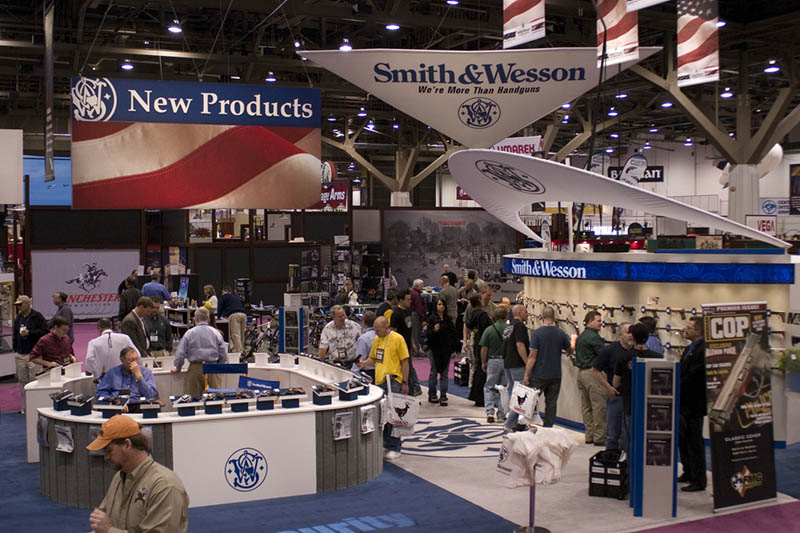 Mega-gun companies are here, spawning new appendages that draw on strength in their corporate DNA to supplement, strengthen and improve the performance of each limb. All began small, but continue to grow at a furious rate.
The species has been around for years so you can come out from under the covers. Without knowing it, you've reaped the benefits of the competition-driven organisms with every visit to the gun store, where new and improved products regularly appear, distribution is streamlined and prices remain stable, despite Wall Street's roller coaster.
They're a product of slow and methodical growth, with long-term tactics planned to such an extreme that they often seem to move at glacial speed. The best time to catch a glimpse is when firearm industry sales are scalding hot, like now.
SIG Sauer
SIG Sauer, for example, has a legacy of producing fine guns that stretches back into the 19th century, when a trio of Swiss businessmen founded a wagon company overlooking the Rhine River. Nearly 10 years later, it dabbled with and landed a government firearm contract.
The adaptable, arguably genetic, attitude served the company well as it came to American shores in 1985, launched the SIG Sauer Academy and captured law enforcement and military contracts. Today, "…nearly one in three law enforcement professionals use SIG Sauer firearms," according to the company website. "We are proud that many elite military and government forces including the U.S. Navy SEALs, the Federal Air Marshals, the Department of Homeland Security and the U.S. Coast Guard carry SIG Sauer firearms," said Ron Cohen, President and CEO of the firm.
SIG Sauer's growth pedal is floored right now. In 2015 the company officially launched an ammunition line it built from scratch. "It's just not the way we do it," Bud Fini, SIG Sauer Vice President of Marketing said when asked if it wouldn't have been easier to just purchase an established company. "We build it and design it from the ground up. We don't want someone else's business, we want SIG business."
The effort was three years in the making. "We brought Dan Powers on board in 2012 to begin managing the design phase of the bullet that would become the V-Crown," Fini said. Sales are so brisk that SIG Sauer is in negotiations with Jacksonville, AR, to purchase a facility for production there, and it's little wonder with Powers—a well-known industry veteran who designed and patented a frangible bullet—calling the shots.
SIG's suppressor lineup also rolled out in 2015, and there's no ignoring its new Electro Optics, which harness the talents of 12 engineers and another industry pro, Andy York. "We have more engineers on staff than our top competitors combined," Fini said. Then there's the identical weight and manual-of-arms Air Gun line.
The growth is good news for the economy. Roughly 98 percent of everything from the company is produced in America, but by the end of 2016, "….every product will be made here in the United States," according to Fini. When Cohen took over, he had 75 employees. "Everybody else has exported jobs," Fini added, explaining SIG Sauer now has more than one thousand staff members in its main, New Hampshire, facility alone.
Ruger, Hornady, S&W
Ruger's also no stranger to expansion, although it's the most calculated in doing so among major makers. Its unique investment-casting process was once churning out golf clubs. So it comes as no surprise the company recently unveiled a .22-caliber suppressor—the Silent-SR, designed and produced by the company—and ARX Ammunition, licensed and produced by PolyCase Ammunition.
Reloading supplies and ammunition may be Hornady's best known fodder, but it also offers safe and vault security devices, including the very popular RAPiD Safes. And, Smith & Wesson's long-established handcuff line isn't exclusively restraining criminals.
Acquisitional Growth
Mega-gun companies don't always grow organically, though. Remington joined the ranks through the acquisition of DPMS Panther Arms, Marlin, Bushmaster, AAC, Barnes Bullets and many more. Another variation on the theme was born when Vista Outdoor retained Federal Premium, Bushnell, Blackhawk, CCI, etc., after it split from ATK.
It may sound ominous, but the growth of a "species" so driven to increase efficiency and improve design in an effort to gain market share means lower prices for shooters and better products. That doesn't signal the end of small, one-man businesses, either. Quality is always in demand. Keep producing it long enough, enthusiasts take note and things begin to grow.