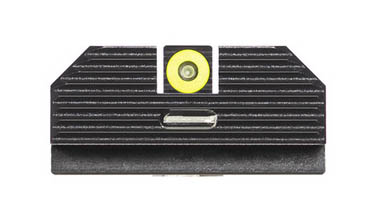 From Night Fision
Night Fision is excited to announce a collaborative night sight project with firearms instructor Chris Costa. This series of sights, known as the Night Fision Costa Ludus sights, includes six different configurations.
The Costa Ludus sights were designed with direction from Chris Costa, based on his extensive background with the United States Coast Guard and as a firearm instructor. These sights have several unique features that set them apart from other Night Fision sights. Most notably, there are serrations on the front and rear sights to reduce glare. There are also serrations on the front edge of the rear sight to maximize one-handed manipulation. Costa Ludus sights include a proprietary Night Fision Perfect Dot in the front sight and a horizontal tritium bar in the rear sight. The tritium bar gives the shooter a clear distinction between the front and rear sights in low light conditions. The rear sight is also cut to maximize the target picture for fast acquisition.
"Working with Chris to develop these sights has been a great experience. He knows exactly what he wants in a sight, and we are happy we could execute his vision," said Jacob Herman, director of sales for Night Fision.
The Night Fision Costa Ludus sights are available exclusively for Glock pistols, in two versions: one that includes MOS and one that excludes MOS.
"Night Fision exceeded my expectations in creating sights to my exact specifications," said Chris Costa. "I am very impressed with their innovation and the quality of their products, and that led to this partnership."
All Night Fision Costa Ludus sights are backed by Night Fision's 16-year warranty. These sights can be ordered from a dealer or at www.nightfision.com.
Night Fision's sister company, Cammenga, produces the U.S. Army's Official Tritium Lensatic Compass and provides them to national militaries around the world. As a result, Night Fision utilizes over 25 years of tritium insertion and military-grade manufacturing expertise to provide the brightest tritium night sights on the market today.
Since the sights are only made for Glock, here's a link to some new Truglo tritium sights for Smith & Wesson M&P Shield 9 EZ owners.