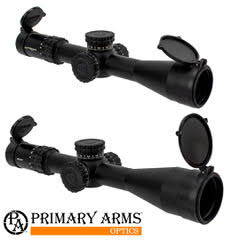 From Primary Arms
Primary Arms Optics is now shipping its new GLx 2.5-10×44 mm FFP ACSS Raptor M2 and GLx4-16×50 mm FFP MIL-DOT rifle scopes. Following the initial release of GLx in 2019, Primary Arms' Optics latest product line features two new reticle configurations elevated by GLx innovation. Both new GLx scopes are now available for purchase from primaryarms.com and your preferred retailers.
"These scopes are part of our mid-tier lineup of optics, called GLx," said Marshall Lerner, CEO of Primary Arms. "GLx brings premium technologies and materials into an approachable price range, providing customers an unbeatable value."
The GLx 2.5-10×44 mm is a versatility-driven powerhouse, offering a 44 mm objective lens without the heavy weight. This lens draws more light than comparable 24 mm LPVO lenses, providing the user with an exceptional image quality for greater precision at distance. In close quarters, the large eyebox and lightweight body make this optic nimble, as targets are quick to acquire with the innovative ACSS reticle. The ACSS Raptor M2 is the perfect pairing for this scope, as it brings peerless utility into a compact, intuitive horseshoe design.
For long distance precision, the GLx 4-16×50 mm FFP Rifle Scope with MIL-DOT reticle blends tradition with GLx innovation. MIL-DOT reticles are among the most proven, well-studied reticles in the world. By bringing the MIL-DOT reticle into the GLx 4-16×50 mm body, users can make full use of its refined features. The enhanced turret design features steel adjustment rings, which guarantees flawless tracking accuracy that is guaranteed to last a lifetime.
Both scopes come with the company's enhanced locking turrets with return to zero, AutoLive motion sensing reticle illumination, and hardened steel-on-steel adjustment system. In pursuit of this effort, all GLx optics are backed by Primary Arms' lifetime. The company was recently honored by the state of Texas for the volume of veterans it employs.