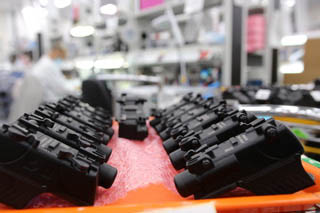 From Meprolight
Israel, like the U.S. and the rest of the world had to deal with economic shutdowns due to the COVID-19 Pandemic. Meprolight's business managers recognized going forward there would be supply issues so they made early decisions to ship inventory to the U.S. before the shutdown and to order component materials in order to be prepared when production was allowed to resume.
Because of their planning, Meprolight US was able to meet product demand during the pandemic and has received product to replenish what has been sold. Bill Yerby, Meprolight's U.S. General Manager shared, "Meprolight took preventive actions that put us into position to continue filling orders during the virus crisis. Having materials on hand in Israel allowed them to begin production as soon as the restrictions were lifted that allowed us to continue to meet the increased demand for the RDS Pro V2, M-21 and the MEPRO HVS Highly Visible Day/Night Self-illuminated Sights."
The picture shows RDS Pro V2 units being inspected prior to be shipped to the U.S. It is the latest and most technical MIL-SPEC red dot optic from Meprolight. New features include 16 levels of brightness for any lighting condition, day or night. Shooters can choose from numerous reticle patterns— such as 2.0 MOA dot, Bullseye or 300 Blackout—in either red or green reticle. Shooters can expect thousands of hours of use from a single AA battery depending on level of reticle brightness selected. The RDS Pro V2 is battle proven and trusted by militaries, law enforcement agencies and professional shooters world-wide. It comes with a Picatinny rail mount and is compatible with NVGs and magnifying scopes.
Unique Advantages:
Advanced LED Technology for low power consumption
Auto shut-off mechanism for additional energy savings
16 distinct reticle brightness levels for varying conditions
Multiple reticle patterns — 2 MOA Dot, Bullseye, 300 Blackout—Available
Red or Green Reticles
Compatible with all standard NVGs& Magnifying Scopes
Wide, crystal-clear display window allowing increased FOV
Low-battery Indicator
MIL-STD