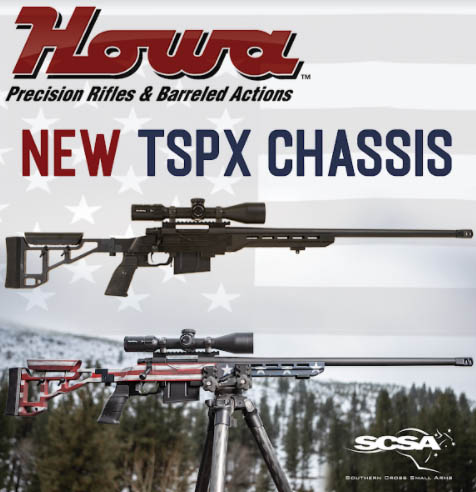 From Legacy Sports International
Legacy Sports International has announced its new Howa TSPX Chassis series is now shipping. The new Howa TSPX Chassis series is a rock-solid full aluminum folding chassis from SCSA (Southern Cross Small Arms) that offers excellent stability and performance when paired with the renowned Howa barreled action. The Howa TSPX is available in four great chamberings—.308 Win., 6.5 Creedmoor, 6.5 PRC and 300 PRC. and come with a long list of attractive features that equate to one the best chassis rifle values and offerings on the market today.
Features Include:
·24-Inch Threaded # 6 Contour Howa Barrel
·Offered in anodized Black or Cerakoted USA Flag option
·Offered as a Scoped Package Option with a Nikko Stirling Diamond LR 4-16×44 mm scope with 30 mm main tube
·Two Stage Match Trigger
·Three-Position Safety
·Sub MOA Assurance
·Compatible with steel AICS mags
·Chassis Machined from 6061 T-6 Aluminum
·Complete Free Float Barrel
·Folding Stock
·Ergonomic Design
·MDT Grip
·M-LOK slots on Forend
·4 QD Sling Cup positions
·Ambidextrous Magazine Release
Lifetime Warranty on Rifles and Scopes!
MSRP's Start at $1,189 depending on rifle only and scoped models along with the various color options.
Here's a look at the company's Oryx Mini Action in 6.5 Creedmoor.
The company also started recently shipping a new Howa M1100 rifle.