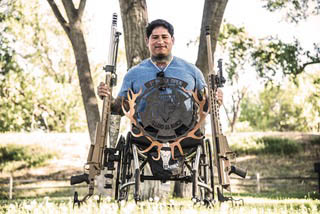 From Berger Bullets
Congratulations to Jorge Ortiz, winner of the 5th Annual Nightforce ELR Steel Challenge! Jorge was running new Berger .30-caliber 220-grain Long Range Hybrid Target bullets through his Accuracy International ASR platform chambered in .300 Norma Mag. for the impressive win.
The 2020 Nightforce ELR Steel Challenge was held June 13 to 14 at Tillard 55 Ranch in Glenrock, WY. Nearly 200 shooters engaged targets from 700 yards to 2100 yards (1.2 miles) in extremely challenging conditions with wind gusts eclipsing 60 mph.
Jorge stated, "When it comes to Berger Bullets, especially the LRHT line, the consistency shows both during the measurements and downrange at the target. I simply selected Berger's default G7 BC within my Kestrel 5700 Weather Meter with Applied Ballistics and was on target for the match."
Berger Long Range Hybrid Target bullets feature a jump-tolerant hybrid ogive profile that is Doppler verified with less than 1% BC variation. A high BC is important for competitive shooting, however, shot-to-shot consistency is most critical when engaging targets to 1,000 yards and beyond. Visit NoBSBC.com and learn "why BC consistency wins" vs. the "highest BC is best" myth.
Another Berget Bullet shooter took top honors in a May match, as well.