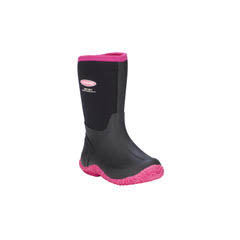 From Dryshod
Premier boot brand Dryshod has leveraged its performance technology to develop the new Kid's Outdoor Series. This expansion includes three versatile styles, ensuring protection and comfort for any outdoor adventure. The Kid's Outdoor Series has been carefully designed by the Dryshod team to match the quality and performance of their premium adult boots.
The Kid's Outdoor Series includes the Kid's Haymaker Boot, Kid's Tuffy Sport Boot, and the Kid's Arctic Storm Winter Boot. Each style has been designed to perform in a variety of conditions and terrains, and all include the premium Dryshod Rubber Boot technology utilized in all Dryshod boots. Constructed with a Densoprene foam bootie and a Hydrokote water-repellent coating, Dryshod's youth boots are 100-percent waterproof and easy to keep clean (even if your kids aren't!).
The Kid's Haymaker boot (Mid/Hi-calf) is a premium work boot for children and is suited for the most rugged conditions. The DS1 molded outsole provides excellent traction across all surface conditions while an integrated nylon shank adds support and stability. The Kid's Haymaker is an all-season work boot that is comfortable to wear in both warm and cold weather and includes an EVA molded sock liner that can be removed to keep the boots dry and fresh at the end of the day.
The Kid's Tuffy Sport Boot (Mid/Hi-calf) is designed to protect during play. Uneven terrain is no match for the Tuffy boot with its flexible, high-grip calendared outsole. Designed with a steel shank, this boot offers good arch support and protection in an all-season sport boot.
The Kid's Arctic Storm Winter Boot (Mid/Hi-calf) is a staple for children's winter gear. Ensuring comfort and performance in the harshest winter conditions, the Arctic Storm boot has six layers of protection, including a 5mm bootie and 2.5mm DENSOPRENE XD foam layer for maximum insulation, a 2mm airmesh layer to promote air flow while minimizing moisture buildup, and a fleece lining that delivers all-day comfort.
Haymaker Kid's Outdoor Boot (Brown/Orange) MSRP: $89.95
Tuffy's Kid's Sport Boot (Black/Grey, Black/Navy, Black/Pink, Black/Purple, Camo/Bark) MSRP: $74.95-$79.95
Arctic Storm Kid's Winter Boot (Black/Blue, Black/Grey, Black/Pink, Black/Purple, Camo/Timber) MSRP: $94.95