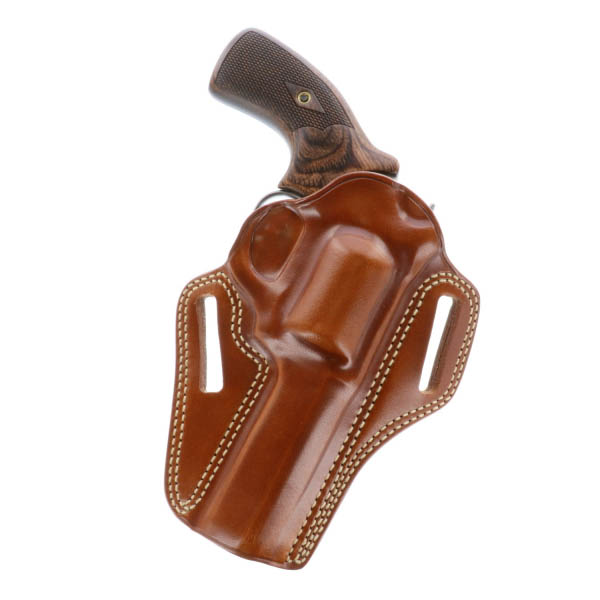 From Galco
The Combat Master is a professional-grade belt holster constructed of premium saddle leather and hand-molded by our experienced craftsmen. The traditional high-riding pancake-style design places the belt slots on either side of the holster, pulling the handgun tight to the body and making defensive handguns disappear. It also features a covered trigger for safety and an open top with firing grip accessibility for speed. Available in black or tan, the Combat Master retails for $99.

The DAO is a versatile, premium saddle leather belt holster made for the outdoorsman. It can be worn strong side or crossdraw at the user's choice. The holster employs a traditional retention strap for simplicity and security in the field. The strap's large polymer tab aids in snapping and unsnapping with a gloved hand. Tension screw adjustment gives a custom fit to the revolver. Available in black or tan, the DAO retails for $112.

The Phoenix belt holster is for the outdoorsman who prefers the finest of quality. Stitched sight rails protect both leather and sights. The reinforced thumb break retention strap secures the revolver in the brush while offering a very swift draw. Twin tension screw adjustment gives a custom fit. Constructed of premium saddle leather with protective silicone suede lining, in black or tan, the Phoenix retails for $159.

The Miami Classic II carries the revolver and two speedloaders horizontally, allowing a fast and natural grasp when drawing the gun or spare ammo. The harness straps measure 1 1/2″ at the shoulders, distributing weight while also remaining concealable. The four-point harness pivots independently for superior comfort with almost every body size and shape. Made of premium saddle leather, the Miami Classic II is available in tan and retails for $249.
And if you're looking for grips for that new Kimber revolver, here's a new option from Hogue, one of the industry's most trusted.