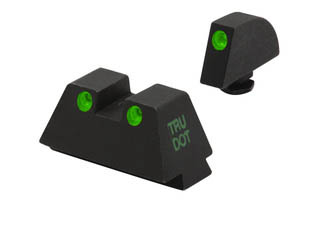 From Meprolight
At last count, 42 states allow the use of suppressors, sometimes called cans on handguns and rifles. Predictably, NY and NJ are among the eight that do not, but I digress. Depending on the make and model of the suppressor, your sight picture can be affected. Meprolight solved that dilemma with suppressor height Meprolight Tru-Dot Self-Illuminated day/night sights and the R4E for Glock and H&K VP9 owners.
Designed to replace existing front and rear sights, the taller tritium integrated sights allow you to see the target clearly over the suppressor. Meprolight Tru-Dot sight dots are perfect for day light, low-light and night time conditions. The fixed, suppressor height sights are available in orange, yellow or green color combination models.
And if you're looking for versions more suitable for carry, here's a look at the Meprolight FT Bullseye sights.
Meprolight is the world-leader in OEM and after-market self- illuminated sights for handguns with models for over 24 manufacturers including Glock, Heckler & Koch, SIG, Smith & Wesson, Springfield Armory, IWI, Ruger and CZ.