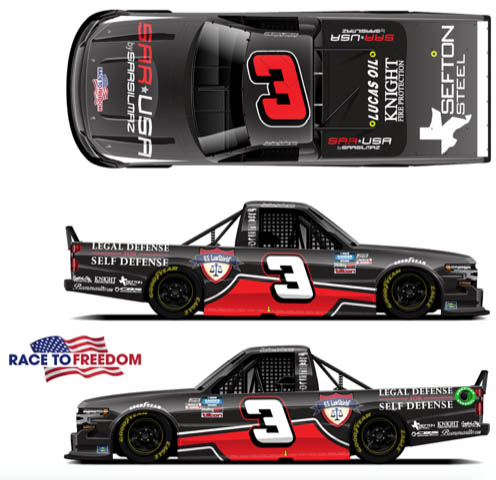 From Harris Global Marketing & Communications
SAR USA by Sarsilmaz, one of the world's largest manufacturers of firearms, is pleased to announce the sponsorship of Jordan Anderson's "Race for Freedom" No. 3 Chevrolet Silverado in the NASCAR Gander RV & Outdoors Truck Series on Saturday, July 18th 2020 at the Texas Motor Speedway. SAR USA will be featured on the coveted front hood position and both sides of the inside bed of the truck for this event.
"SAR USA is proud to support the Race to Freedom Truck," said Todd Pearson, COO of SAR USA. "In these unpreceded times, a 'Race to Freedom' truck is just what we race fans need. We also know the vast majority of NASCAR fans share our passion for the shooting sports and the great outdoors. Jordan is a class act and a very talented driver and we couldn't be more excited about this opportunity to partner with him and A.E. Engine."
With more than 80,000 fans across social media, Anderson not only provides a fascinating level of access, but also delivers his sponsors millions of impressions every month purely from his social media content. The 'Race to Freedom' truck also allows partners to leverage their own social media to create an even larger online impact. Sponsors will also be included in a complete A.E. Engine content activation program, to include print, digital, YouTube and additional social media.