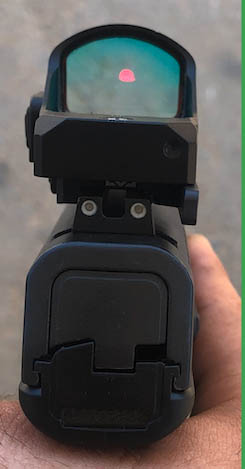 From Meprolight
Like millions of other Americans, you've purchased a new handgun. It might be your first or it might be your 10th. Either way, you need to seriously consider upgrading your sights in order to increase your capabilities. Red-dot sights on rifles have been popular for years but because of their size, they were impractical for handguns. Now they've been downsized to fit. One of the issues when purchasing a red-dot optic for your pistol involves milling your slide so the optic could be mounted. Another issue involved the need for a tall, co-witness iron sights for back up purposes. And on top of that, what happens if you don't want the optic on your gun for any particular reason. Technological advances in design and manufacturing allowed the engineers at Meprolight to solve of these problems with the Mepro microRDS.
The Mepro microRDS with the patented quick-detach (QD) adaptor Kit that features a 3 MOA dot utilizes the existing rear dovetail slot for sights to mount the adaptor that holds the Mepro microRDS or any other red dot optic available on the market. Now, many pistols can use a red-dot optic without the need to drill and tap mounting holes on barrels or slides. The adaptor mounts directly to a Meprolight TruDot, self-illuminated sight which also functions as a back-up sight should the shooter need to remove the red-dot optic. It can be placed back on the gun without having to re-zero the sight.
Designed as a primary pistol optic; it can also serve as a backup or a secondary CQB sight on rifles and shotguns by attaching it to the Picatinny rail. The small— durable yet lightweight— pistol optic utilizes a 3.0 MOA red dot for quick target acquisition. The energy-efficient sight is powered by a single common CR2032 battery that can be changed when needed without removing the sight from the gun.
The crystal-clear sight window provides greater Field-Of-View with both eyes open in any lighting condition—day, low-light or nighttime. The Mepro microRDS is available in three configurations:
Option 1- Full Set
Mepro microRDS Red Dot Sight.
Quick Detach Adaptor.
Backup Self-illuminated, Mepro Tru-Dot Night Sight Set.
Option 2- Quick Release Adaptor
Picatinny Rail Adapter to QD mount adaptor is available and sold separately.
Option 3- Optical Sight only
Mepro microRDS plus Picatinny Rail Adapter.
Here's a quick look at the quality and inspection that goes into each of the company's units.