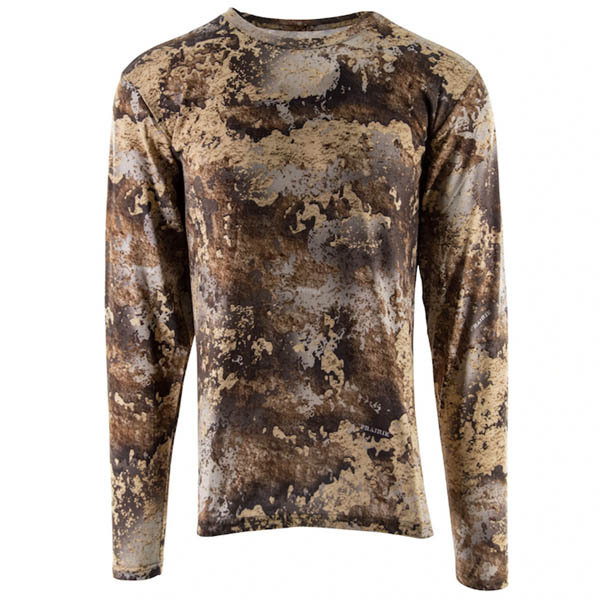 From TrueTimber
TrueTimber Performance Shirts answer the call from outdoorsmen and women for late summer and early fall adventures. Lightweight construction, quick dry, moisture wicking technology with odor control and stretch fabric ensures a comfortable and breathable fit that does not restrict movement. As the temperature stays high and the early season kicks off, be sure to take full advantage of these high-performance shirts.
For a hot sunny day on the water, the Lightweight Performance shirts from the TrueTimber Fishing line are built to be cool, comfortable and keep users out of the sun. For hunters in the dove field, early season duck blind or deer stand where the temperatures are still up, the camo Short and Long Sleeve Performance Tee's are just the answer. Lightweight and breathable, these shirts keep users cool, unrestricted and come in four popular TrueTimber patterns to match any environment. These shirts are also easily layered for use as the summer heat breaks and cool mornings call for lightweight layers.
"The technology behind these lightweight shirts is so impressive and makes them incredibly versatile in a ton of different situations," said TrueTimber CEO Rusty Sellars. "Whether you find yourself hunting in an open field with no breeze, on the boat fishing with the sun beating down, or even looking for a thin layer you can easily pull off once things cool down a bit, these shirts just seem to be the perfect combination to fit all of those situations. The proof is in the fabric and any hunter or fisherman without some of these in their lineup is really missing out."
TrueTimber Lightweight Performance Short Sleeve & Long Sleeve Crew
Deigned for a day on the boat or the beach, the TrueTimber Lightweight Performance Shirt is constructed with a 4-way stretch polyester and spandex memory yarn. This composition makes these shirts quick dry, moisture wicking and odor controlled. This shirt also features smooth and comfortable heat transfer labeling in the neck and UPF 50 sun protection. Available in Jet Black. Short sleeve MSRP $12.99, long sleeve MSRP $14.99.
TrueTimber Camo Short Sleeve & Long Sleeve Performance Tee
Great on its own for early seasons or as an added layer in later seasons, the TrueTimber Performance Tee combines antimicrobial, odor-fighting technology with 2-way stretch, moisture wicking, fade resistant fabric to deliver a well-rounded shirt every hunter needs in his or her lineup. Available in TrueTimber Prairie, Strata, Kanati and HTC Green Patterns. Short sleeve MSRP $12.99, long sleeve MSRP $14.99.