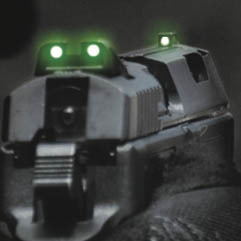 From Meprolight
According to reports, over 5,000,000 individuals have purchased guns this year. Statistics indicate approximately 40% of them are first time purchasers. They've come to understand what most of us believe,: you are responsible for your own safety. All of us have reached the same conclusion, at any time or place, we could find ourselves in a position where all other options—avoidance, retreat and de-escalation—won't work and we have to defend ourselves or those with us. If you've watched the news recently, these situations usually occur at night.
Tiger McKee, Director of Shootrite Firearms Academy wrote the following in The Tactical Wire, "Based on data from previous attacks we know that it's likely to occur during hours of the day associated with adverse light, and — if you're forced to fire — you'll likely fire about three to four shots." (The Tactical Wire.com 3.25.20) Meprolight Tru-Dot night sights allow you to upgrade your capabilities for these less than ideal situations.
Designed as an upgrade to the sights that come with your handgun, Meprolight Tru-Dot models provide a sight picture system for improved aiming which requires no transition from day to night use. The shooter's point of aim reference are three solid dots illuminated by tritium to enhance visibility in low-light or night time conditions. The tritium illumination is guaranteed for 12 years. Meprolight Tru-Dot sight dots are perfect for any lighting condition you may find yourself in. They are available in, orange, yellow or green color combination models for over 24 manufacturers including Glock, Heckler & Koch, SIG, Smith & Wesson, Springfield Armory, IWI, Ruger and CZ
Meprolight, founded in 1990, is the industry leading tritium-illuminated sight manufacturers in the world making day/night sights offering the widest variety of handgun brands in the US market.
For more information or to find your local Meprolight Dealer, visit https://us.meprolight.com. And here's a look at the company's FT Bullseye Sight.