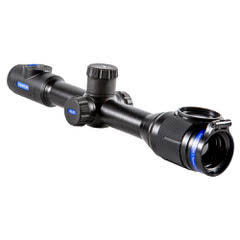 From Pulsar
Pulsar is pleased to announce the release of two brand-new Thermion thermal riflescope models: the XQ38 and XQ50. These riflescopes represent the pinnacle of the hunting and shooting industry, combining technology and convenience to deliver a premium shooting experience for users. The XQ's enhanced 384×288 thermal sensors detect heat signatures in total darkness up to +1500 yards, depending on the model, and these images are then converted to a stunning 1024×768 AMOLED display, where every object appears crystal-clear. Able to digitally zoom 2x-4x, display 10 variable electronic reticles and cycle through 8 distinct color viewing modes, these Thermion XQs are at the top of their class.
With over 5 hours of battery life and external power supply adaptability, these Thermion XQs also boast Wi-Fi connectivity, built-in recording, Picture-in-Picture digital zoom and compatibility with the Stream Vision app. These riflescopes have one-shot zeroing with freeze function; rock, forest and identification viewing modes and defective pixel repair fracture.
| | |
| --- | --- |
| Thermion XQ50 | Thermion XQ38 |
| 3.5-14x magnification | 2.5-10x magnification |
| 2000-yard detection range | 1,500-yard detection range |
384×288 enhanced thermal sensor
1,500-yard thermal detection ranged (2,000-yard for XQ50)
1024×768 AMOLED Display
4x digital, continuous zoom
Picture-in-Picture digital zoom
Built-in recording and Wi-Fi connectivity
8 color palettes
5+ hours of battery life
External power supply adaptability
And don't forget to take a look at the company's new THERMION XG50 3-24×42 THERMAL RIFLESCOPE.