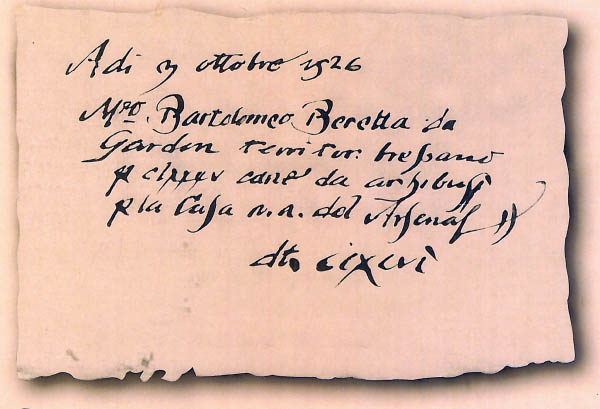 From Beretta
This past Saturday, October 3rd, Beretta celebrated its 494th anniversary as a firearms manufacturer, which makes Beretta the manufacturing company with the longest history of continuous operations in the world. Beretta products have accompanied sportsmen and women all around the globe on countless hunting excursions, performed flawlessly in five decades of the Olympic Games, and been combat tested as the official sidearm of the U.S. Armed Forces for over 35 years.
In 1526, Mastro Bartolomeo Beretta (1490-1565/68) of Gardone Val Trompia, Brescia, Italy, received 296 ducats as payment for 185 arquebus barrels sold to the Arsenal of Venice. Although there is a history of Beretta products' production in the 1500s, this particular moment in our history is the first documented sale of Beretta products in the known world, and it is the foundational point from which our company began its commanding presence in the firearms manufacturing industry.
Over the years, the Beretta family and name has become synonymous with uncompromising quality, design, materials, construction, and performance for their myriad of firearm products. With the fourteenth and fifteenth generations of the Beretta family now in charge of the various Beretta companies, their leadership benefits from centuries of experience passed down from father to son as they constantly innovate to meet the demands of a global market in the 21st century. With continuous investments in technology, people, and growing product lines, the Beretta family remains committed to the core value of quality without compromise established almost five centuries ago. It is this premise that continues to be the unchanging key to Beretta's success in serving customers worldwide.
"Beretta has been continuously reinventing itself for nearly 500 years, and that is how, generation after generation, we create the market-changing products," Francesco Valente, General Manager and COO of Beretta USA, said. "We are a stable company, focusing on the long-term and we think in terms of decades, not quarters – that is why we can invest so much in research and development and invest in environmental conservation to preserve the future of our planet. From our founding through today, we have kept a relentless commitment to innovation. The company's birthday is an excellent opportunity to remind ourselves and our customers that we will always strive to innovate what's next."