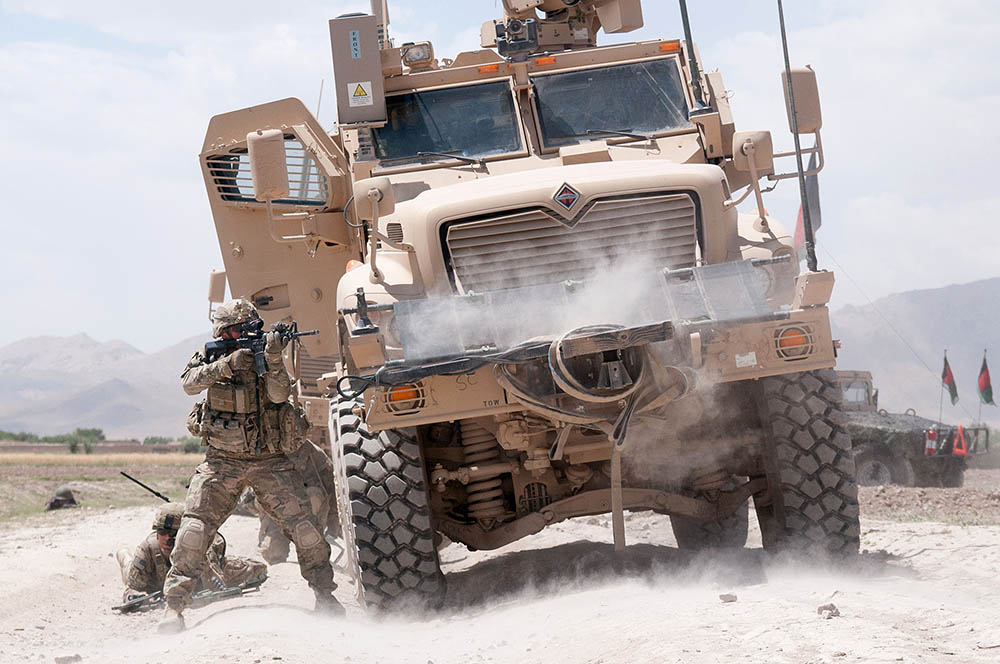 Performance and reliability standards for U.S. Armed Forces small-arms contracts are rigorous, but are civilian guns military tough? I asked several experts about the expense of submitting gear for military consideration and if guns on sporting goods store shelves would meet those specifications.
More than Financial
The U.S. Army announced a SIG Sauer entry based on its P320 was the winner of the Modular Handgun System (MHS) contract in early 2017. Headlines immediately focused on the $580 million value of the 10-year contract. The M17 and M18 pistol are now in service and the reviews are glowing. There are other reasons the company takes pride in the design and service to our country, however.
SIG Vice President of Product Management, Defense & Law Enforcement Robby Johnson said the staff had another motivation in the submission. "One third of the nearly 2,000 SIG Sauer employees are veterans or former law enforcement officers," he explained. "So, it's a great honor, along with an incredible understood responsibility and urgency to provide the highest quality, most innovative products to the military and all of our public safety officials."
Sidearms are not the company's only products on the front line of freedom, either. Members of the U.S. Military are also using SIG Sauer Tango6T SOCOM and Tango6T SDMR optics and MCX Surg, MCX Rattler and MPX firearms. Its recent submission is even among the final three vying for the Next Generation Squad Weapons System contract.
The company's portfolio is diverse. Johnson said that's because, "SIG Sauer is more than just a firearm company. We take a very holistic approach by providing one source of manufacturing for firearms, optics, ammunition, suppressors and accessory lines, and we feel this gives us a competitive edge within the industry for both our military and commercial consumers."
Consumers have notice, too. Business is brisk enough that the company is expanding, once again.
Military Proving Ground
The U.S. military uses a variety of Daniel Defense parts, although news coverage pales by comparison to the industry's goliaths. I asked Joseph Scull, director of the company's military, law enforcement and international sales, if competing for those contracts helps. "It can help at times, especially in regards to deciding what testing needs to be done and the military does have very rigorous standards for rifles in regards to durability, reliability and ability to stand up to extreme environmental conditions. On the other hand," he cautioned, "the military is extremely slow to procure new technologies. So, they don't necessarily drive innovation…An average American that takes part in 3-gun shooting, for example, typically has a rifle that is far more advanced than the M4 that the average Soldier carries. Better materials, lighter weight, more accurate."
Although Daniel Defense delivered 40,000 rail systems to the U.S. military in 2006, the company remained focused on civilian shooters. As for company gear currently guarding freedom, "It's is a huge honor to have our products in the hands of our Soldiers, Marines, Airmen and Sailors," Scull said. "Knowing that we are helping them get their job done is a great feeling and quite humbling. Coming from a military background myself it is also amazing to see the abuse that they put our gear through at times and have it still keep working."
Are Civilian Guns Military Tough?
Does that innovation filter into the civilian market? Beretta's MHS submission lost to SIG, but it introduced that M9A3 pistol to civilian enthusiasts within months. The company hasn't survived 494 years by trashing that kind of hard work.
The experts explain how long polymer framed guns can last and which chemicals to avoid in maintenance.
The approach is similar at SIG Sauer. "It is a conscious decision by the SIG Sauer team to rapidly implement the newest technologies, manufacturing processes and best practices learned from the demanding military customer and bring them to the civilian enthusiast," Johnson, a former Army Ranger, said. "The same quality goes into every firearm and product…our manufacturing staff don't even know whether a product is being built for the commercial or professional market."
The approach means enthusiasts stateside have access to some of the latest and most innovative firearms and accessories available. Are civilian guns military tough? The experts make it obvious products from their companies are. Choose wisely and you wind up with something even better.
U.S. Army photo by Sgt. Michael J. MacLeod