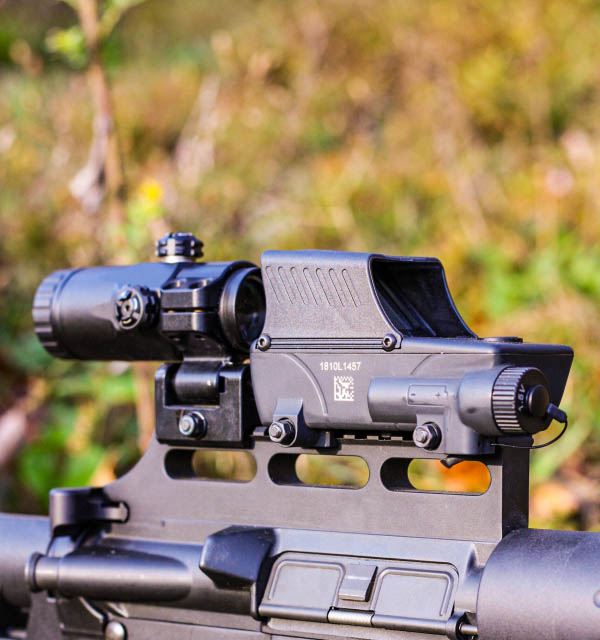 From Meprolight
The explosion of modern sporting rifles continues to grow just as fast as manufacturers can build them. Keeping pace, is the demand for red dot and reflex optics, as well it should. They are used across many shooting disciplines—military, law enforcement, 3-Gun competition, and hunters. The one drawback of a red-dot optic is the lack of magnification when shooting targets at greater distances. Meprolight solved the magnification issue with the MEPRO MX3-F and MEPRO MX3-T
The MEPRO MX3-T and MEPRO MX3-F are 3X power magnifiers that attach to the Picatinny rail immediately behind the red-dot optic. The MEPRO MX3-T has an integrated pullback adaptor that allows it to ride to the right side when not needed. The MEPRO MX3-F has an integrated push-button mechanism that allows it to ride to the side when not needed.
Both models can be configured for the right side or left side ride when not in use and will not interfere with the weapons operating system. Simply flip it into position to engage for longer distance shots without having to re-zero your rifle.
Elevation and windage dials allow for a precise FOV line of sight alignment. The MEPRO MX3-F/T are compact and waterproof.
To find your closest Meprolight Dealer or to learn about other outstanding Meprolight™ optics, self-illuminated day/night sights and thermal imaging devices, visit: Meprolight.US
Shown above with the MEPRO MX3-T is the MEPRO RDS Pro V-2.
And don't forget to take a look at the company's Micro RDS.