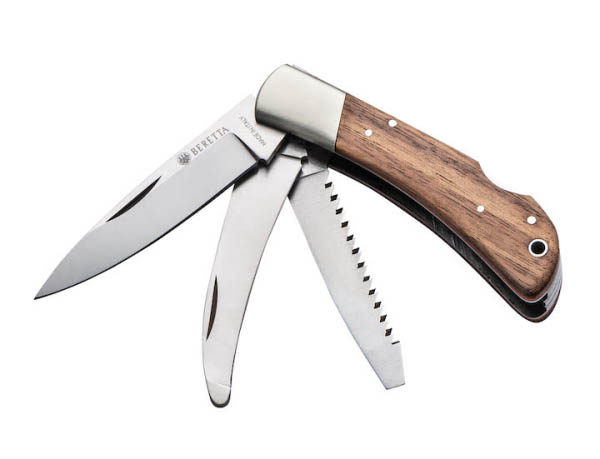 From Beretta
Beretta is excited to announce the launch of a brand-new line of Beretta hunting knives. Characterized by handles made from a combination of walnut wood bonded with orange G10 fiberglass for enhanced durability, these high-quality knives are made in Italy with French 440C Inox Steel.
Designed in cooperation with Maserin, an Italian knives manufacturer, this new line utilizes hand-selected materials chosen for their quality standards. The French 440C Inox Steel used to craft the blades is ideal for hunting as it is hard enough to keep the edge sharp after repeated use, yet soft enough for easy sharpening (when needed) and guarantees high resistance to rust and corrosion.
"When our first Gallery store opened in the US in the late 1990s, the search was on to fill the store with products that reflected the hunting pursuits. The clear objective outside of apparel and gun accessories was to find ways to round out the customer experience, and knives became a key focus. Throughout the years, we have worked with top Global and US suppliers to explore ways to bring the Beretta innovation from firearms into this adjacent category. Our relationship with Maserin knife supplier has strengthened, and we are excited to launch this new series of hunting and gentleman knives to the US market. A classic approach to a new steel mold and stamping technologies mixed with clever branding aesthetics gives authentic personality to this collection," Patrick Mocorro, Digital P.A.C. Sales Manager & Clothing – Accessories Business Leader, said.
This new hunting knives collection features various fixed blade knives, folding knives, and three-blade knives.
The Beretta Eland Fixed Blade Knife features a four-inch blade made of AISI 440 Stainless Steel with a walnut and G10 grip and a durable cow leather sheath. The lightweight knife, weighing 0.5 lbs., also contains a hole for additional string and a loop on the sheath for attachment to a belt. When the screws are removed, this knife features a hidden compartment inside.
The Beretta Bushbuck Folding Knife is a practical folding knife designed with certain size specifications that make it suitable for most situations hunters find themselves in. This hunting knife features a 3.3-inch AISI 440 Stainless Steel blade and walnut and G10 grip with grooves designed to provide a more secure grip and measures at an overall length of 8.8 inches long.
The Beretta Duiker Three Blade Knife is a foldable knife that contains a plain blade, a serrated blade, a screwdriver, and a skinner. This three-blade knife weighs 0.4 lbs. and is a total of 7 inches long with a 3-inch blade and a distinctive walnut wood grip.
The entire hunting knives collection is now available for purchase and retails for an MSRP ranging between $99-$229.
For additional information, visit www.Beretta.com.
You might also want to take a look at the Bear OPS Titanium pocketknife.