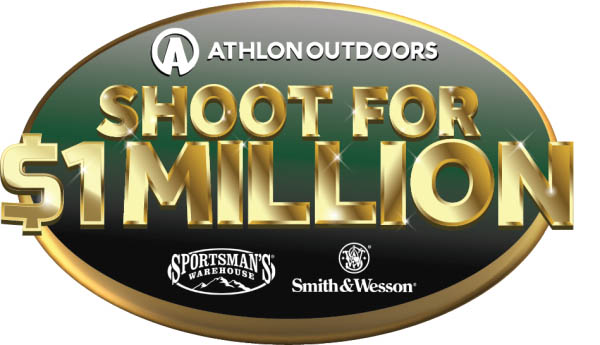 From Athlon
What would you do with $1 million? In the shooting sports industry's biggest promotion, Athlon Outdoors is giving someone the chance to win $1 million as part of its Shoot For $1 Million Sweepstakes. Launching Nov. 1, 2020, and running through Jan. 31, 2021, the sweepstakes also awards more than $80,000 in other prizes, comprised of premium gun packages, optics, gear, and guns safes. Included in the grand prize area $5,000 Sportsman's Warehouse gift card (with a chance to double it to $10,000 with a well-aimed shot), Smith & Wesson pistols, revolvers and rifles, and a trip to Phoenix to shoot for the $1 million.
Behind a massive 36 million-impression media push across all of Athlon Outdoors' assets (including Ballistic, Tactical Life, Personal Defense World, Combat Handguns, and Skillset, plus all associated websites and social media) and cross-promotion by all sweepstakes' sponsor companies, the promotion is expected to generate up to 100 million impressions and more than 100,000 entrants (possibly many more according to the sweepstakes administrator). Presenting sponsors are Sportsman's Warehouse and Smith & Wesson; supporting sponsors are Walther Arms, Kahr Arms (including Auto-Ordnance and Magnum Research), Browning, Riton Optics, and Umarex.
"We wanted to go big with this promotion and create something basically unprecedented in the industry," said Nick Seifert, SVP/General Manager, Athlon Outdoors. "The timing is perfect. It's been a difficult year for many Americans. The prospect of winning a million bucks, plus so many great prizes, will be uplifting. We expect a huge response and a fun, viral promotion."
Early Bird drawings will take place at the end of November and the end of December, both of which will award a premium Smith & Wesson firearms package including a pistol, revolver and rifle. The Grand Prize drawing will take place after Jan. 31, 2021. The winner will win the same package of Smith & Wesson firearms, a Sportsman's Warehouse $5,000 gift card good for any of its 125,000 SKUs online or in-store, plus an expense-paid trip for two to Phoenix a chance to shoot for $1 million. Should the finalist fall short of the big prize, they will get a consolation shooting attempt to double the Sportsman's Warehouse gift card prize to $10,000.
To pre-register and for more information, including official rules, go to ShootForOneMillion.com.