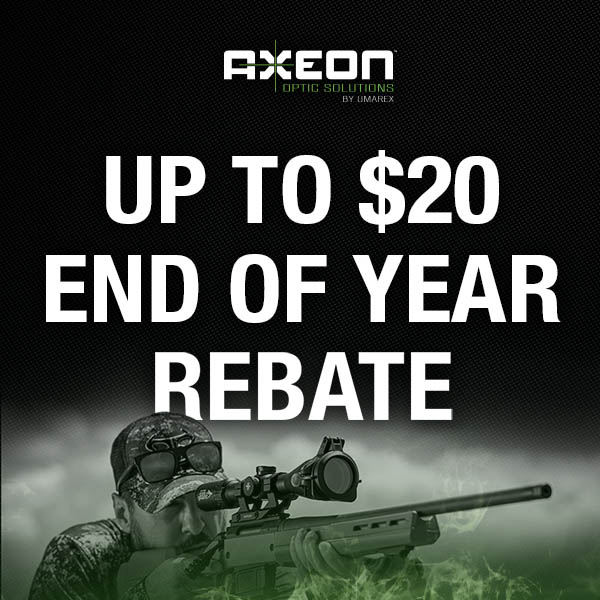 From Axeon Optic Solutions
Through the rest of the year Axeon Optic Solutions is offering up to $20 back in cash rebates on select Axeon Optic products purchased between October 15, 2020 and December 31, 2020.
"We're excited to provide cash back dollars during a year when it's important to stretch that dollar." Said Brad Webb, vice president of sales for Umarex USA, Inc. "Shooters and hunters enjoy our innovative, tough, and affordable products, like the unique Axeon Second Zero®. Our scopes and dot sights are made for everyday shooters and are a great fit for all the new guns purchased over the last few months."
The Axeon Optic rebate allows outdoor goods, shooting, and hunting participants to experience the reliability, technology, and affordability of optics that put them clearly on target.
Eligible Axeon Optic products include the Absolute Zero®, AM3 monocular/light, Second Zero®, NightVue, 4-16×44 etched dot reticle rifle scope, ShotLine 650X, ShotLight 120X, the new RGY dot sight, Dog Soldier Predator Scope, MDSR1 dot sight for modern sporting rifles, new long range 6-24×50 rifle scope, and the versatile 1-6×24 scope. These items must be purchased new at retail in the U.S. between October 15th, 2020 and December 31st, 2020. Promotion excludes any other models not listed.
To claim a rebate, make a purchase of an eligible Axeon Optic through an authorized dealer or website. Then complete the digital submission form and attach a valid receipt/proof of purchase made between October 15 and December 31, 2020. Submissions must be made by January 31st, 2021. The qualifying rebate, up to $20, will be delivered in the form of a check. To submit your rebate or more details on the Axeon Optic End of Year Cash Back Rebate visit AxeonOptics.com/Rebate-Offers.