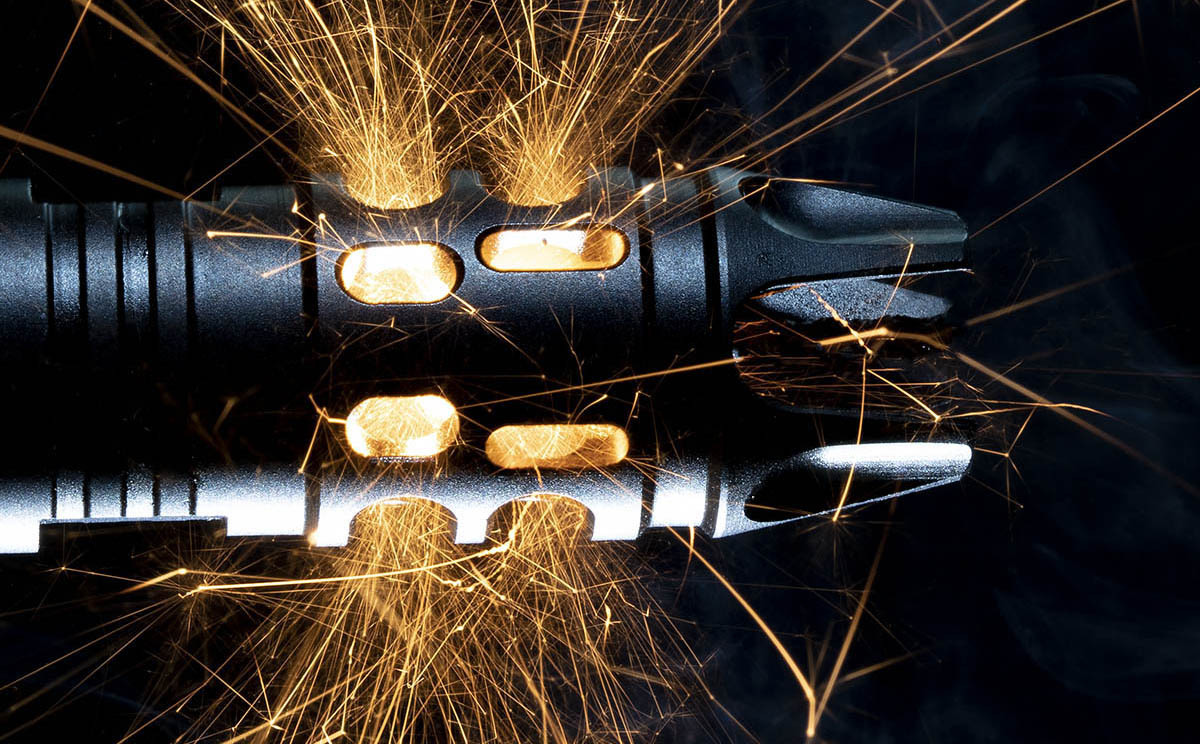 Experiments are often therapeutic, although I'm not sure what to make of the unexpected results of this Mission First Tactical EvolV 3 Prong Ported Muzzle Brake photo. If nothing else I temporarily forgot about the pandemic, elections and civil unrest while cursing the lighting and inability to control the "explosion" within.
This thing looks good before, during and after unwarranted photographic abuse. Mission First Tactical built this brake to last without going overboard on weight.
Specs
The Mission First Tactical Evolv 3 Prong Ported Muzzle Brake is designed for 5.56 NATO or .223 Rem. firearms. It tips the scales at 1.57 ounce.
The 416 stainless steel muzzle device has a black nitride finish. Not all steel is the same. The experts explained some of the differences when I interviewed them for a story on steel targets for Shooting Illustrated magazine. If you're in the market for reactive targets, make sure you heed their advice. It'll enhance safety and save cash in the long run.
Included with each EvolV is a mil-spec crush washer. Timed right during installation the brake functions extremely well. Recoil's not much on a 5.56 NATO, but follow-up shots seemed faster, which prompted this image experiment. The porting/vent configuration is unusual, obviously.
Details in the Mission First Tactical EvolV Image
The photo atop this blog is looking directly down at the the brake when timed properly. Mission First Tactical claims the ports, two on each side, disperse gases laterally to reduce recoil. The image pretty much confirms that fact, not that there was much doubt.
The pair on top, staggered and in two different sizes, aren't letting quite as much escape. Their function, according to the company, is to reduce muzzle rise. It looks like they're doing exactly that, although not with quite as volume as the side vents. That's deliberate, I'm confident, because this thing goes on low-recoiling 5.56 NATO or .223 Rem. firearms. A little can make a big difference on follow-up shots with that cartridge.
About the only claim the image doesn't seem to confirm is the ability for the three prongs up front to direct gas and concussion away from the shooter. Maybe I'll find that in another of the dozens of images I took.
In the meantime let me know if you think if exploring muzzle devices with this technique is worthwhile at all. It's far from scientific and doesn't address the high-speed laminar flow. It is, however, an interesting look at a device all of us run on our guns.
Thanks so much for visiting my modest blog. I hope you have a glorious day and consider coming back soon.