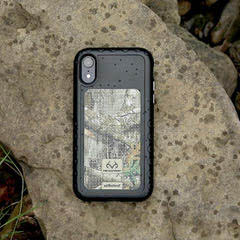 From Realtree
Featuring an ultra-durable bond and non-slip texture, TACKBACKS, available in a variety of Realtree camo options, grip firmly and safely to the back of phones, tablets, laptops and so much more.
TACKBACKS are made from a latex-free material that repels dirt, lint and other debris and are easy to apply to all of your favorite devices. They're perfect whether you are out on a hunt or a hike and need to know that your phone is secure regardless of where you happen to set it down.
Cold weather is here, so the EXSCAPE Parka in Realtree might be an ideal gift this holiday season.
Proudly made in America, TACKBACKS provide extra protection to your device while still allowing you to show off your personal style through their wide variety of Realtree camo patterns.
TACKBACKS are made with a universal fit and can be easily cut to suit any mobile device. Not only does this allow you to custom fit your grip but also allows you to incorporate your accessories with ease; simply choose the size that best suits your device.
Features:
Non-slip texture
Grips firmly and safely to the back of phone, tablets, laptops, and so much more
Durable bond
Easy to apply
Made from latex-free material that repels dirt, lint, and other debris
Wireless charging compatible
Extra protection for your device
Made in America
Universal fit; can easily be cut to fit any mobile device
Choose the size that suits your device
You can custom fit your grip and incorporate your other accessories with ease