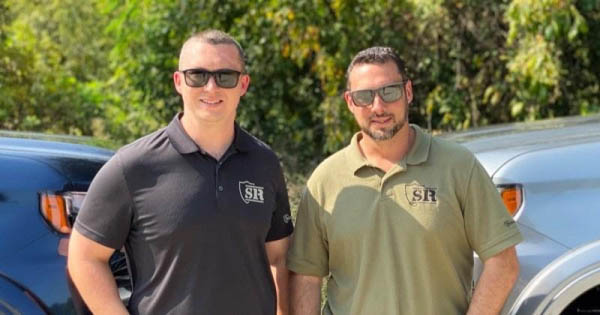 From Shield Republic
Shield Republic was founded in 2016 by Barrett Johnson and Ryan Carter, who grew up in North Carolina, to perpetuate the duo's core values: honor, courage and commitment, while standing proud for freedom and liberty.
All of the creative and fresh apparel, hats and drinkware made by Shield Republic embody the spirit of American pride, with many displaying strong support for the Second Amendment-and everything is designed in-house and manufactured in the U.S.
"We wanted to bring a general voice to the blue-collar American," says co-founder Ryan Carter. "And to give them something they can wear and feel proud of while putting out products that aren't going to be influenced by what's considered politically correct."
Shield Republic is also deeply involved in charity work, recently creating a 5013c, the Shield Republic Foundation. Since 2016, Shield Republic has donated about $700,000 to fallen first responders' families via sales of custom products. The bulk has been generated in 2020 during the pandemic-driven e-commerce spike.
"Shield Republic is a bit edgier than other companies out there in this space, we're a little more vocal and uncompromising, in a way," co-founder Ryan Carter says. "Within the last six months, we've seen a lot of brands sort of scoot closer to slight-right of center, and we're not going to be doing that."
But big changes are coming.
By the beginning of 2021, SR will have gone through a sweeping rebranding campaign, complete with a new line of products for every season of the year, new logos and a new creative spin on apparel with more fashion options than just t-shirts, Carter says, along with more products designed for women and children. Additionally, by next year, 95 percent of everything Shield Republic makes and sells will be sourced from a local vendor in North Carolina.
SR is also reworking the consumer-facing side of their business to decrease turnaround time for orders. By the beginning of next year, 95 percent of orders will ship within 24 hours.
But even with all those changes, Carter says the spirit behind Shield Republic isn't changing.
"We are staying tried and true to what we believe in," Carter says. "We're not jumping on the Politically Correct bandwagon or getting involved with cancel culture. We're going to stay in the space where we are and give a voice to people like us, Republicans, gun-toting Americans."