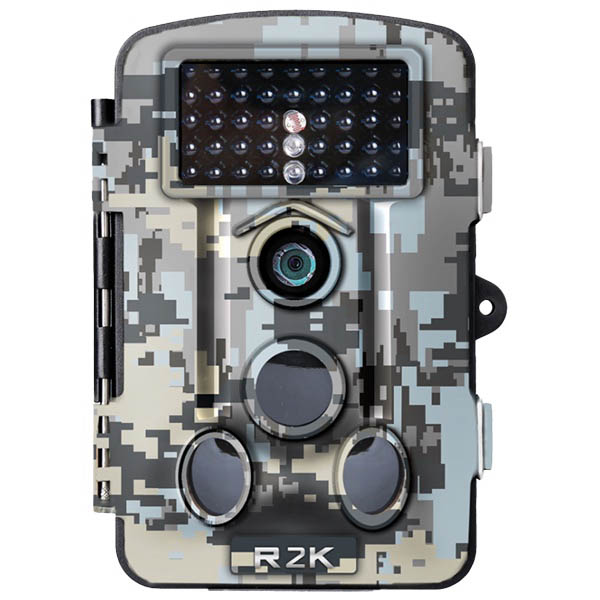 From Black Gate Hunting Products
Higher standards and lower prices. That's the name of the game for Black Gate Hunting Products. When that mantra is applied to the trail camera industry it results in the ultimate lineup of trail cameras money can buy. That's exactly what hunters get when they use the new R2K from Black Gate, an innovative new trail camera that is packed full of impressive features and won't break the bank.
The R2K features a high-definition 20 MP camera that is capable of shooting photo only, video only, or photo plus video modes. Super-fast trigger speeds of as low as 0.2 seconds will ensure you capture even the fastest moving activity in front of your camera. An infrared, black, no glow flash with a range of 80 feet makes sure your camera remains stealthy and captures all the traffic, both near and far. The built-in microphone and 2.7k video recording capabilities allows for HD quality recording ensuring you'll see and hear every detail, no matter what settings you're using.
Here's my complete list of the best new guns and gear for 2021.
The R2K has multiple still-shooting quality settings including 3 MP, 5 MP, 8 MP, 12 MP, 16 MP, and 20 MP. With this flexibility you're sure to find a setting that captures the right level of detail and maximizes your storage capacity. And speaking of storage capacity, load up the camera with images and videos thanks to SD card capacity of up to 512GB. When you're ready to view your images and videos, use the built-in speaker and the LCD color display to quickly locate your favorite clip or image of that target buck or bull.
Forget about having images of the back half of your quickly moving game. An ultra-wide detection zone means you'll pick up every nearby motion and the near instant trigger speeds of 0.2-0.6 seconds ensures they'll stay in frame of your photo. The fully automatic IR filter is coupled with 42 No Glow IR LEDs to make this camera capable of capturing crystal-clear low light images. All of this is driven by dual PIR sensors covering a full 120' of angle. All of these features combine to make an incredibly powerful trail camera package, all of which is available at an MSRP of only $84.99.