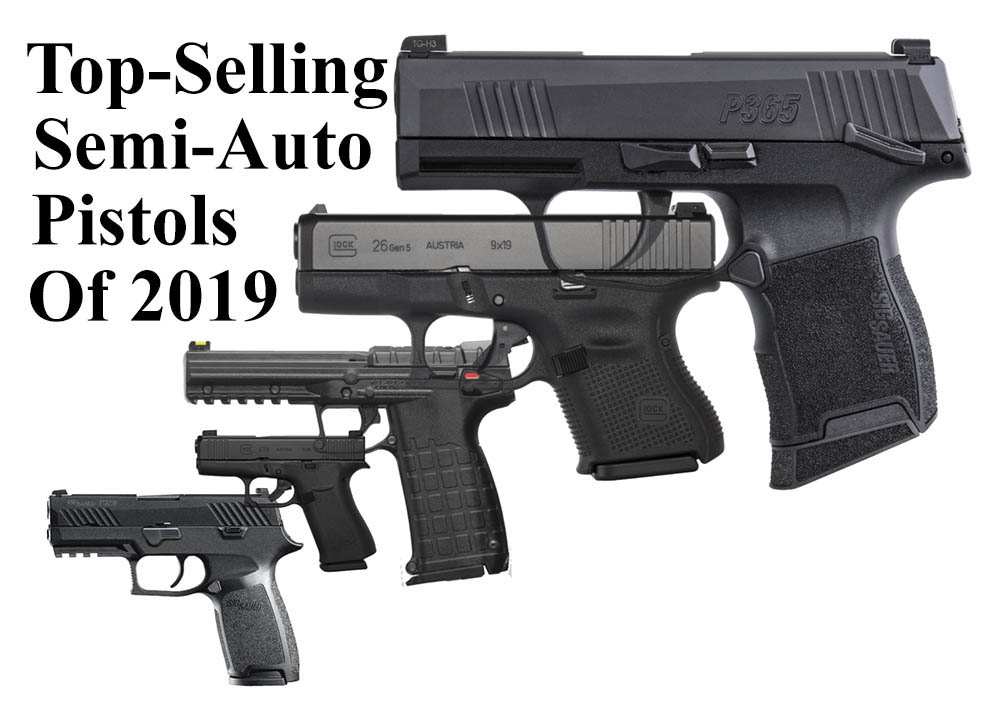 By Guy J. Sagi
Gunbroker.com ranks firearms sold by FFLs using its services and here's a look its list of top-selling semi-auto pistols of 2019—with full details, just in case you overlooked something new and cool. FBI NICS figures provide a snapshot of overall firearm sales nationwide, but the monthly report does not reflect which models are selling best.
Gunbroker.com's Gun Genius website organizes the firearm rankings into a variety of subcategories and styles monthly and annually. It provides a few details on each gun, but this compilation includes more specs and history. Bear in mind, however, the findings reflect volume of sales by FFLs that use the services of Gunbroker.com, not the brick-and-mortar retailers that constitute the bulk of gun sales nationwide.
No. 1—SIG Sauer P365 Nitron Micro-Compact
The SIG Sauer P365 Nitron Micro-Compact was winner among the top-selling semi-auto pistols of 2019 on Gunbroker.com. In fact, it also held that title in 2018, the year it was introduced.
Its primary mission is concealed carry, a growing market. Add the company's reputation for quality with an MSRP of only $599 (as of 2020), and it's the formula for success—with the numbers to prove.
The striker-fired 9 mm weighs in at only 17.8 ounces and can run +P loads. Overall length is 5.8 inches, width 1.06 inch and height 4.3 inches. The carbon-steel barrel measures 3.1 inches.
A pair of 10-round capacity magazines ship with each P-365 Nitron Micro-Compact. Optional 12-round versions are available.
The frame and slide are stainless steel, with the latter sporting a businesslike Nitron finish appropriate for a carry handgun. Polymer grips help minimize perceived recoil and a manual-safety version of the pistol is now available.
Sights are SIG Sauer's X-RAY3 Day/Night Sights, a three-dot tritium system that provides fast target acquisition in low-light conditions, as well as in broad daylight—when the three dots alignment intuitively against their housing's black finish. It's a nice touch on a gun at this price, because purchasing a set of these sights separately will set you back more than $100.
No. 2—Glock G26
For the second year in a row the Glock G26 has claimed runner-up honors. Like the top-place-finishing SIG, it's also a sub-compact designed for everyday carry or backup duty.
Glock introduced its original G26 to American enthusiasts in 1996, but the Gen5 improvements added to select models in August of 2017 breathed new life into a number of its veteran variants. When they arrived on this time-proven 9 mm, sales soared with refinements that include a tougher, more durable Glock nDLC finish on the slide and barrel. The latter was also upgraded to the company's "Marksman" version with improved rifling, enhanced accuracy and refined crown. The ambidextrous slide stop lever adds appeal to southpaws and the subtly flared mag well speeds reloads. Perhaps more importantly, depending on opinion, finger grooves are gone from the grip.
The Glock reputation for quality and reliability didn't change, though. The striker-fired semi-auto weighs in at 21.69 ounces with an empty magazine and has a 3.43-inch barrel. Three standard magazines come with the pistol and have a capacity of 10 cartridges. The company also offers 12-, 15-, 17-, 19-, 24-, 31- and 33-round versions. The forged-steel slide measures 6.26 inches and the frame is polymer. The steel barrel has a 1:9.84-inch, right-hand rate of twist.
The double-action-only pistol is 6.42 inches long, 1.3 inch wide and 4.17 inches in height with the standard magazine. The slide's front serrations ensure manipulation in inclement weather. Sights are fixed with white-lined U-notch to the rear and a bright white dot on the front post. Amerigo BOLD Night Sights or Glock Night Sights are included on select models for faster target acquisition and alignment in challenging light conditions. MSRP for the G26 Gen5 base version is $599 (in 2020).
No. 3—Kel-Tec PMR30
Kel-Tec introduced the .22 WMR-chambered PMR30 in 2010 and it was an instant hit with enthusiasts. The futuristic-looking semi-auto pistol features a flush-fitting 30-round magazine, Hi-ViZ fiber-optic sights—fore and aft—and an accessory rail for mounting lights and lasers.
It claimed third-place honors in semi-automatic handgun sales category in 2019 on Gunbroker.com, despite being nearly a decade old and chambered in a rimfire some consider less than optimal for self- or home-defense purposes. Its popularity barely wavers, and it has remained in the top-10 for the past five years.
The PMR30 has a 4.3-inch barrel and measures 7.9 inches long, 5.8 inches tall and 1.3 inches wide. Those dimensions make it something of a challenge to carry concealed, unlike the top-place finishers in this category. That's not where it shines brightest, anyway. Empty, the gun weighs only 14 ounces, which lets it lighten the load for hiking, backpacking and survival chores. Its capacity is a bonus for each of those duties.
PMR30's steel slide is tapped for optics and is coupled with an aluminum grip frame to reinforce the primarily polymer construction. The barrel has a 1:11-inch rate of twist, although early versions were not as tight.
The manual safety is ambidextrous. A hybrid system of blowback and locked breech operate the semi-auto. MSRP in 2020 was $478.
No. 4—Glock G43
Glock introduced its smallest 9 mm pistol roughly five years ago, the G43, and the single stack has proven to be a popular choice for self-defense and concealed carry. Magazine capacity is six, and with it filled the gun weighs only 20.64 ounces—depending on load. It ranked fourth in the list of top-selling semi-auto pistols of 2019.
Barrel length is 3.41 inches and overall length of the handgun is 6.26 inches. Aggressive grip texturing ensures solid purchase, even with sweaty palms or in poor weather. The slide is made from forged steel, the barrel is steel and the frame black polymer—although a few new versions are flat dark earth, and a rare few produced in gray and battlefield green. In keeping with its mission as a carry pistol there is no accessory rail.
The double-action-only moved up up from 6th place in 2018. It didn't make the top-10 in 2017.
It's now available in an all-black version, the G43X (pictured). Glock's website doesn't list an official MRSP for the pistol, but if you shopped around in 2020, and could find them, price was roughly $500.
No. 5—SIG Sauer P320
The military version of SIG Sauer's P320 line—the M17/M18—was named the official sidearm of the U.S. armed forces in early 2017. It's already in the hands of those standing on the front line of freedom, guarding the Tomb of the Unknown Soldier at Arlington National Cemetery and quickly captured the attention of enthusiasts across the globe.
Versions available to civilians aren't quite identical to the military sidearm, although the SIG Sauer P320-18 is about as close as the company can offer. Regardless of model, there's no denying the performance and reliability are identical. And there are a lot of versions to choose from, another reason why it listed fifth in Gunbroker.com's top-selling semi-auto pistols of 2019.
From Full-size to Carry or Compact, in Nitron, X-Carry, XVTAC, XFive Legion and more, there's something for everyone. The majority are chambered for 9 mm and .40 S&W, but some models come in .45 ACP. Barrel lengths run from 5 inches to 3.6, depending on selection. The pistol's 3-point takedown system eliminates the need to pull the trigger for disassembly and it features a striker safety as well as a disconnect safety.  Prices vary by model.
Keep in mind this top-selling semi-auto pistols of 2019 list is limited
A representative from SIG Sauer contacted me after I originally compiled this expanded list and explained that, through August of 2020, the company was shipping more P320s than p365s. He had the volume figures in front of him during the conversation, calling into question its fifth-place stature. It's yet another reason to keep in mind these rankings represent a small slice of the market—only sales through Gunbroker.com.