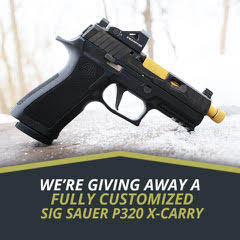 From Night Fision
Night Fision, a leader in advanced tritium insertion solutions, is giving away a fully customized SIG Sauer P320 X-Carry.
Night Fision partnered with their friends at D&D Gunsmiths, Sig Sauer and some of their favorite companies to bring you a completely tricked out P320. Check out these specs and try not to get too excited:
Night Fision – Optics Ready Stealth Sights
Norsso – Reptile C Custom Slide
Swampfox – Liberty 1×22 Red Dot Optic
NDZ – 3D Rear Slide Cover Plate; Magazine Base Plate
Faxon Firearms – Flame Fluted Threaded Barrel
To enter, just follow the directions in this link: https://woobox.com/qnytzu. All entries must be submitted by 11:59 PM Eastern Standard Time on February 24th, 2021.
To purchase Night Fision products, please visit www.nightfision.com.