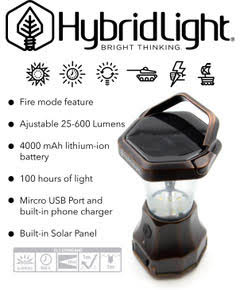 From Hybrid Light
Hybrid Light, a solar-powered, mobile lighting, and charging flashlight company is preparing to release their newest product– Copper Series Atlas 600 Lantern.
The Copper Lantern will be adjustable from 25 to 600 lumens, and on one full charge, it will give you 100 hours of light–similar to its companion, the Atlas 600 Camping Lantern. The major difference between the two is the fire mode feature in the Copper Lantern.
Terry Peterson, CEO of Hybrid Light said, "The biggest feature we are excited about is the fire mode feature. The lantern will imitate a life-like fire color. It's the first of its kind in our product line and we're really excited to be launching it. We cannot wait for our customers to experience a new 'lantern fire' with just one push of a button."
The new lantern will be available to purchase in March 2021. In the meantime, to check out more of their products, please visit their website.