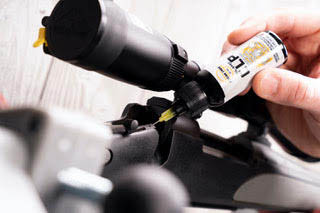 From Break Free
Break Free®, a brand of The Safariland Group, a leading global provider of safety products designed for the public safety, military, professional and outdoor markets, announced today that it has released two new sizes of its popular Break Free CLP® (Cleaner, Lubricant & Preservative). Break Free CLP-14 is available in a compact, one-ounce needle container and CLP-21 available in a two-ounce spray container.
"Maintenance is crucial for the operation of firearms," said Vincent Abrams, Category Manager for Safariland. "Break Free CLP has been tested in the most extreme military conditions. CLP can knock out existing fouling, lubricate the moving parts, and prevent more grime from building up. These two new sizes will make keeping Break Free CLP on-hand much easier and will bring Break Free CLP to more users. Protecting the working surfaces of your firearms has never been easier."
Break Free CLP (MIL-SPEC 63460F Type-A) is more than just gun oil. Trusted by Agencies and Military around the world, it was the first to pass MIL-SPEC 63460. CLP cleans burnt powder residue and other fouling materials from the gun's bore, moving parts, and exterior. The formula also reduces friction and protects against corrosion. CLP will not break down under extreme temperatures or pressure and is made from the highest-quality synthetic oils. For an all-in-one solution to service and preserve your firearm, use Break Free CLP.
Break Free CLP-14 is perfect for keeping in even the smallest of range bags. The one-ounce container has a needle applicator that allows for CLP application in those hard-to-reach areas. The MSRP is $5.98.
Break Free CLP-21 comes in a spray bottle. The two-ounce container is ideal for quick-fix moments on the range or after a round of clays for Over/Under Shotguns. MSRP is $6.98.
About Break Free®
Break Free® is a leading manufacturer of synthetic-based cleaners, lubricants and preservative compounds for military weapon maintenance, law enforcement, civilian firearms, high-performance sports equipment and industrial machinery. Products such as the Powder Blast™, CLP® and Collector® protect the longevity and integrity of firearms. Break Free is part of The Safariland Group. For more information, visit www.break-free.com.